Currently, with the development of the transportation system, infrastructure has made it much easier to transport people's goods. Especially, the emergence of rail transport service companies has made goods from North to South or from South to North becomes much easier. Therefore, many people have chosen to use trains to transport goods. In particular, the rail freight service of SIMBA GROUP has received the trust and appreciation from partners for its dedication, enthusiasm, and thoughtfulness.
The advantages of rail transport that you should know!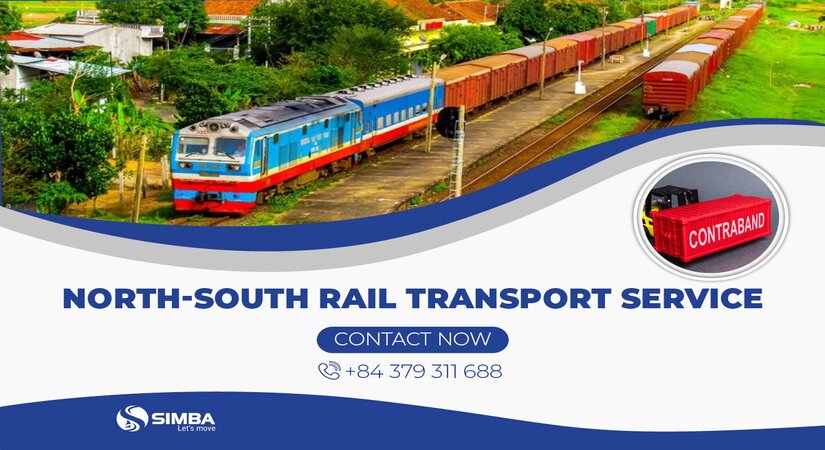 At the present time, many people, especially business enterprises, switch to using railway transport services because of the outstanding advantages of this type of transport. Specifically like:
Freight rates by rail are lower than those of other modes. More specifically, this form of transport can meet many different types of goods and many different weight frames without having to change vehicles during transportation.
In addition to having a lower cost than most other modes of transport, the price of rail transport is also stable over a long period of time and rarely fluctuates. This is because rail transport costs do not depend on current fuel prices.
Rail transport has a fixed schedule and very little deviation. These are trains that run only on fixed and predetermined tracks. These rail lines will not have to be shared with other vehicles and always have priority while participating in traffic. Therefore, transportation by train will not be affected by external factors such as traffic jams, red lights, damaged roads, and climatic factors (heavy rain, flooding,...).
Rail transport can transport goods with large tonnage, heavy goods, and bulky goods. That is the reason many businesses choose to transport by rail for super-gravity machines.
Besides transporting bulky goods, when transporting goods by freight train, the carriages will be separated to transport different types of goods, this will ensure the quality of goods during transportation. transfer.
Transport by train is continuous and takes place at fixed times. So you can be proactive in terms of time, ensure the goods will be shipped and delivered on time, reducing the possibility of loss and loss to a minimum.
Procedures for sending and receiving goods for rail transport
For rail transport, the process of sending and receiving goods also needs to be done in the same way as sea transport or other modes of transport. As follows:
Procedures for sending goods by train
Register to use the train delivery service according to the regulations of the Vietnam railway transport service company in the form of information declaration. Note that for large-scale and valuable orders, this registration is represented by a contract stipulating terms and conditions for both parties. Customers should note to keep documents, receipts, invoices of the service party for checking and comparison.
Carry out loading and unloading according to the requirements of the prescribed time limit for each type of goods. At this stage, customers need to pay attention to the time norms for different types of loading and unloading. In particular, each station will have different regulations on this norm, so customers should note.
The packing of goods according to regulations should be ensured before moving the goods to the station's warehouse according to regulations. Although it is considered a stable form of transport in terms of quality, the proactive preservation of products should be done at the best level.
Procedures for receiving goods from trains
Declare the information required to receive the goods according to the previously declared sender information. At this time, if there is a receipt, or a shipping waybill code, the customer needs to add it to receive the goods quickly.
Submit relevant documents if required: identity card, introduction to receive goods...
Complete payment of shipping fees if applicable. Especially with goods imported through the intermodal terminal, there will be additional customs procedures related to the regulations.
Receive goods and carry out loading and unloading according to the prescribed time of the station.
Complete the exit procedures according to the regulations of the station.
Types of goods that can be transported by rail
For rail transport, you can transport many different types of goods depending on your needs. Types of goods that can be transported by rail transport you can refer to specifically as follows:
Sending Compound goods, bulk goods, small goods.
Fabrics, Leather Shoes and the like
Garment, import and export
Plastic goods, plastic beads, rubber…
Industrial and agricultural products
Mechanical goods, machines of all kinds
Furniture for houses and works
Car and motorcycle spare parts
Get transportation of cars, motorbikes
Production and consumption goods…
Packaging Paper, Carton
Bolts, screws…
Besides, like other forms of transport, rail transport will also refuse to transport specific types of goods such as:
Explosives, flammables, radioactive materials, etc.
Corpses, remains, and rotten matter contaminates and damages other goods.
Live animals, wild animals, fragile goods.
Valuable goods such as gold, silver, jade, ivory, etc.
Quotation of freight rates by railway Hanoi - Ho Chi Minh and HCM - Hanoi
Trains are a means of transporting many different types of goods depending on your needs. However, the process of transporting each type of goods by train is different. The most typical is the way they are contributed, loaded onto the carriages before shipping. Therefore, people often classify goods to calculate freight rates by train. You can refer to the latest SIMBA GROUP transportation rates from Giap Bat station to Song Than station as follows:
Goods when transported by rail through SIMBA GROUP will be divided into 2 main categories: bulky goods and heavy goods. Each type of item will have a different shipping fee:
Bulky goods
Goods transported by fast ship will have freight rates ranging from 450k - 680k per block depending on the volume of the goods.
Goods transported by slow train will have freight rates ranging from 350k - 550k per block depending on the volume of the goods.
Heavy goods
Goods transported by express ship will have freight rates ranging from 1,800 VND - 4,000 VND per kg depending on the volume of the goods.
Goods transported by slow train will have freight rates ranging from 1,200₫ - 2,500₫ per kg depending on the volume of the goods.
Benefit of using SIMBA's rail transport service
If you want to transport goods in full containers, full wagons or goods with a volume exceeding the amount in the table above, you can contact SIMBA GROUP directly for advice and negotiate the best freight rate.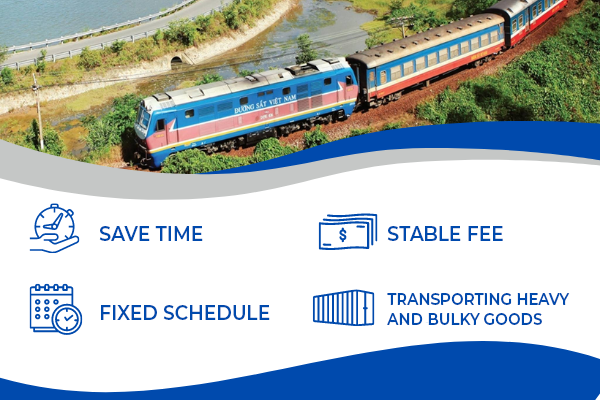 Although it has been launched for a short time, the North-South rail transport service of SIMBA Group has been receiving a lot of appreciation from customers because
Fast, on time, save time
SIMBA we know that our customers' time is extremely valuable and appreciated. Therefore, we always ensure the exact time and on schedule to be able to deliver to you.
Therefore, coming to SIMBA, customers will save a lot of their own time because of accurate and fast delivery and delivery procedures.
Professional and qualified staff
Most of SIMBA's staff are highly qualified people, experienced in handling customer transactions quickly but still giving you the most satisfaction.
Cost savings
SIMBA is sure that we are one of the cheapest rail carriers. This coupled with quality service will save customers more time when compared to other modes of transport.
Reputation comes first
Professional - Careful - Dedicated. These are the three golden slogans of SIMBA GROUP staff. When using our services, you will be assured of maximum safety for your goods, avoiding damage and loss of goods.
Diversified consignments - Super convenient
In order to bring customers the most convenience, SIMBA will provide maximum support to customers by providing full service packages to save time and optimize costs.
In addition, SIMBA's rail transport service also allows customers to send a variety of different types of goods with different volumes and sizes.
Because of the reasons mentioned above, SIMBA Group has become a freight service provider chosen by many domestic and foreign customers to use.
Please contact SIMBA GROUP immediately for a free and direct consultation. If you are in need of transporting goods North - South with the best cost.
Address: Hanoi Office: 21st Floor, Tower A, Song Da Building, Pham Hung, Nam Tu Liem, Hanoi
HCM Office: 4th Floor - DTC Building, 99 Cong Hoa, Ward 4, Tan Binh District, HCMC
Hotline: 0379 311 688
Email: media.simbalogistics@gmail.com