Although currently, trade between 2 countries Vietnam and China has continuously recorded positive results. However, the Trung Viet shipping process still contains a lot of risks such as bumps, breaks, scratches, and delayed transit times,... Therefore, the intervention of a reputable 3rd party with knowledge and experience in freight transportation, import, and export is extremely necessary.

As one of the leading reputable units in the field of transporting goods from China to Vietnam. SIMBA is the address that thousands of customers trust and choose to use the service. We help businesses minimize the risk of loss, confusion of goods, and errors when checking in and maximize cost savings.
The current popular form of transportation of China-Vietnam
There are 2 popular forms of transportation from China to Vietnam today: official transport and sub-quota transportation. Specifically:
Official transportation: When officially imported goods will ensure clear origin, full invoices, documents, and papers in accordance with the provisions of the law. Besides, when imported in this form, goods always ensure stability when transported. At the same time, Chinese official transportation also helps protect the interests of the parties through commercial contracts.
Sub-quota transportation: Compared to official transport, sub-quota transportation is much simpler. Accordingly, when transporting in this form, the carrier can easily bring the goods to the border after filling out the sub-quota declaration form and subject to border fees. However, this form is limited to 1-day transaction value for 1 person, so it cannot be shipped in large quantities. In addition, goods transported by quota are often more difficult to control quality than official transportation.
How long does it take to ship Chinese goods to Vietnam?
There are many factors that determine the shipping time from China to Vietnam such as weather conditions, warehouse location, delivery time of Chinese suppliers,... Express delivery time from China to Vietnam now takes about 1-3 days on average. For shipping, the time will range from 3-5 days. As for economical shipments, the shipping time will range from 7-9 days.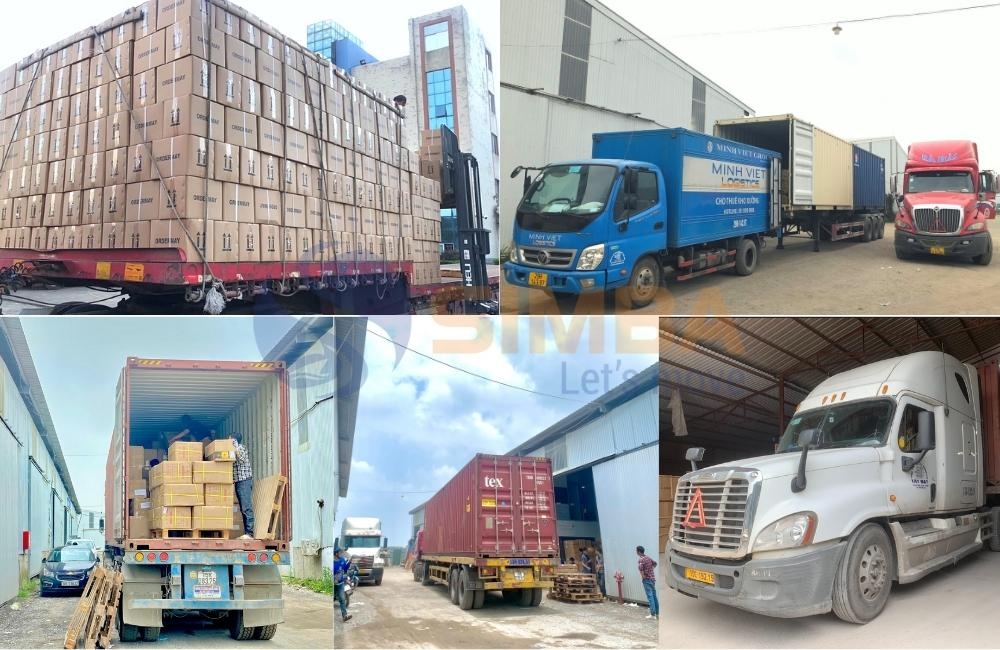 Items that are not allowed to be shipped from China to Vietnam
Not all items are allowed to be shipped from China to Vietnam. Accordingly, items that are not allowed to be transported from China to Vietnam such as Prohibited items such as drugs, stimulants, weapons and ammunition, military equipment, depraved cultural products, documents, and publications with the direction of inciting violence and opposing the state.
There are also incendiary or explosive materials or substances, dangerous or unsanitary substances that pollute the environment. Functional foods and cosmetic chemicals in large quantities are also not allowed to be transported from China to Vietnam.
In addition, each intermediary will have different regulations on supporting and not supporting official imports of China to Vietnam. Therefore, before using the service, you should contact the intermediary in advance to receive advice.
What items does Simba source and ship from China to Vietnam?
Simba receives support to source and transports a variety of items with large quantities of 1 CBM or 200kg or more from China to Vietnam including:
Handheld Machinery
Lighting fixtures
Smart technology devices
Home Appliances
Children's toys
Agricultural machinery and supplies
Industrial machinery and supplies
Furniture/Exterior
SIMBA does not source and transport fashion items, cosmetics, functional foods, groceries, banned imports, and used goods.
What does the Chinese shipping service to Vietnam include at Simba?
Trucking services
With a favorable geographical location, and sharing the same border, goods between Vietnam and China are now transported via road. The biggest advantage of this form of transportation is that it is flexible in the transportation process, not dependent on hours. And the 2 parties can agree on a suitable time to transport goods so as not to affect the business plan. For Trung Viet freight services by road, Simba will help businesses and businesses perform tasks such as:
Loading and unloading;
Freight forwarding, consolidating, and raw cont;
Transportation of super-long, super-heavy, bulk, and special goods;
Transportation of goods in transit;
Transportation of goods temporarily imported - re-exported and temporarily exported - re-imported;
Warehousing and distribution of goods;
Sea Freight Services
For bulky and bulky goods such as machinery and furniture, shipping Chinese goods by sea is considered the first choice. Because this form not only saves costs but also has a large cargo capacity. For the Sino-Vietnamese shipping service at Simba, customers can choose between 2 services: shipping whole containers and collecting retail goods. Depending on the volume of goods, you will choose for yourself the most suitable type of service to save costs.
Sending exports and imports by sea between Vietnam and China;
Providing import services from China to Vietnam;
Whole Container Service (FCL) and LCL retail consolidation at competitive prices;
Door-to-door services.
Air transport services
The fast delivery time only takes about 2-4 days, which is one of the most outstanding advantages of the form of transporting Chinese goods to Vietnam by air. For this form of transportation, it is possible to minimize the problem of border congestion and the risks of customs clearance at the road border gate. For air transport services, Simba will help businesses perform tasks such as:
Analysis and quotes
Air Choice
Packed
Consolidation
Receipt
Transporting exports to China and imports to Vietnam
Support services
In addition to transporting China-Vietnam goods by land, sea and air, Simba also offers customers other support services such as:
Delivery with EXW or DDU/DDP conditions
Delivery Door/Door and House/Office service removal
Why should you choose the Chinese shipping service to Vietnam at Simba?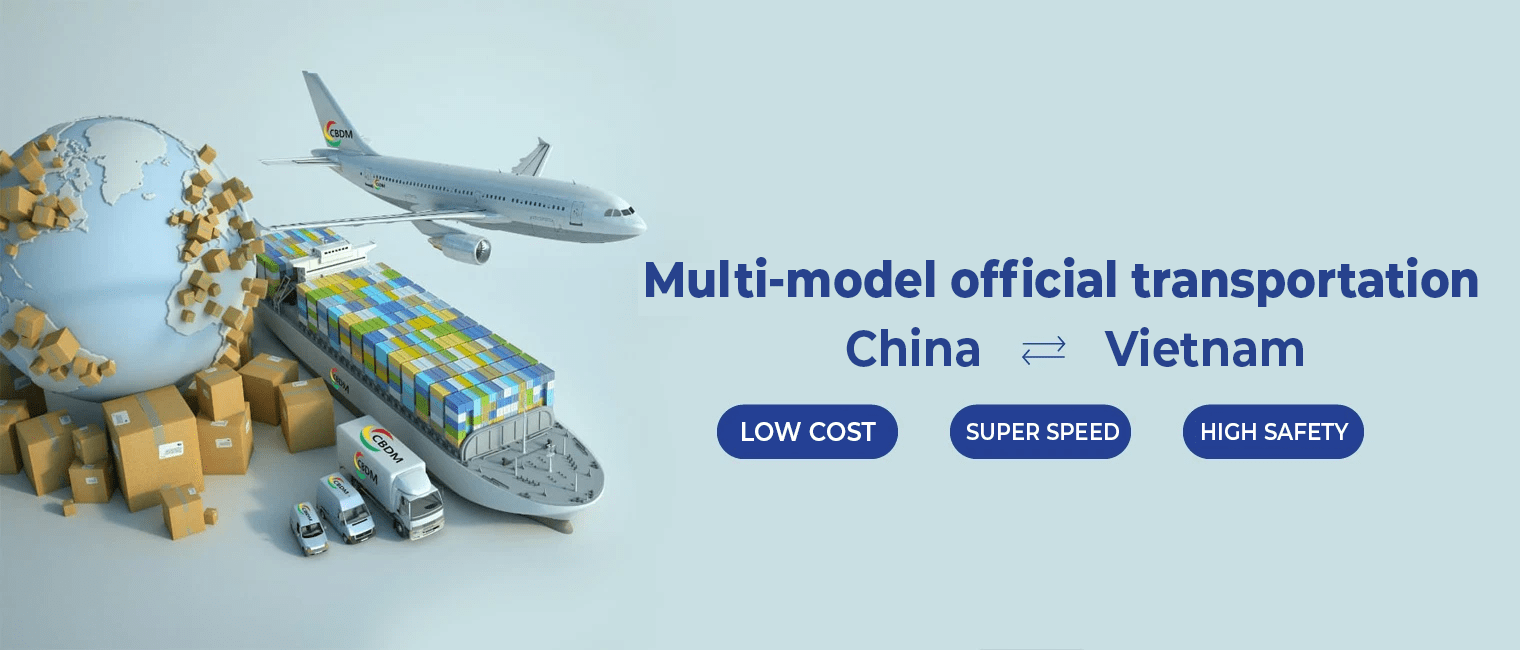 As one of the prestigious Trung Viet shipping units today, SIMBA is an address trusted by thousands of customers who choose to use the service. We will help you minimize the risk of loss, confusion of goods, errors in procedures, and maximum cost savings.
Various forms of transportation
SIMBA provides sea, land, and air transportation services. Depending on the requirements of customers, geographical location, or type of goods, we will recommend the most suitable type of transportation to optimize shipping time and costs.
Fast shipping, no border congestion like sub-quota transportation
SIMBA is currently working closely with many of the largest transport partners at home and abroad, we are always close in the speed of delivery to you. The shipping time from Chinese warehouses to Vietnamese warehouses usually takes only 3-7 days.
Extensive warehouse network
Currently, SIMBA owns a large warehouse with a total area of up to 10,000m2 in Hanoi, Saigon, and Guangzhou extremely convenient, and ready to support customers in all parts of the country. Besides leasing warehouses, we also provide goods preservation services in China and Vietnam. This is considered an important solution to help goods imported from China to Vietnam always ensure quality, and durability, avoiding damage or loss.
Safe shipping and good support service
To ensure the safety of goods, SIMBA is always careful in the process of packaging, sorting goods as well as transportation. In the worst-case scenario, we are committed to 100% compensation if the goods have problems such as damage, or loss of goods.
Experienced Vietnamese and Chinese staff
SIMBA owns a team of experienced import and export specialists, fluent in English and Chinese, guaranteed to source and negotiate for you the best price, help you optimize purchasing and shipping costs, and handle dispute situations (if any).
Simba's commitment to Chinese shipping services to Vietnam
When choosing Trung Viet freight service at Simba, we are committed to:
Commit to always transporting goods quickly and accurately in accordance with the time agreed in the foreign trade contract.
Commitment to transport official goods so that the fear of non-quality goods, without clear origin of customers, is quickly eliminated.
Maximum cargo insurance commitment: In case the goods encounter problems during transportation such as damaged or lost goods,...Simba is committed to 100% compensation to customers.
Committed to supporting customers with concerns and questions about Chinese - Vietnamese shipping services 24/7.
---------------------------------------